Add to Your Disney Budget with Bing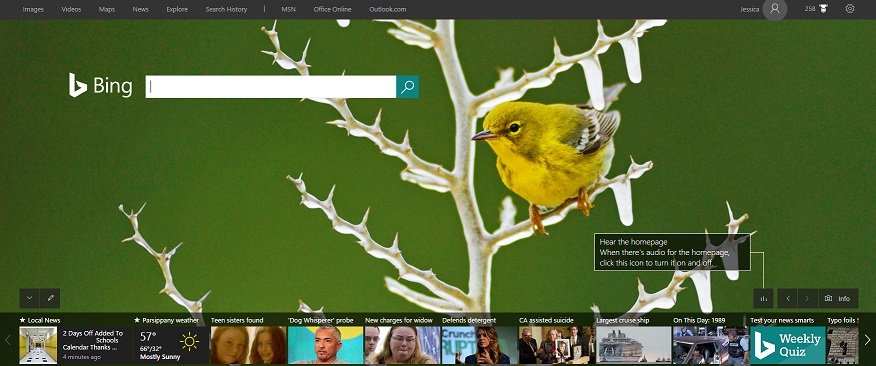 If you're like most people, you probably haven't ever used Bing.
Bing is Microsoft's search engine.
What I love about it? Every day there is a new beautiful background. I enjoy going to it every day to see what it's going to be.
What do I love even more about it though? That you can get paid to search!
Seriously. You can get usually around 30 points a day for searching.
Here is how you can earn the points each day:
You can earn 15 points for doing 30 searches on your desktop/laptop.
You can earn 10 points for doing 20 searches on your mobile phone.
You can usually get between 3-6 points per day for clicking on specific links.
They even make it easy to do searches! You'll see at the bottom of the screen, there are multiple news articles. Click on all of those, and you'll easily get all of your points – and stay up to date on the news as well!
Now the fun stuff…
What can you get with your points?
The first time you use it, for 500 points you can get a $5.00 gift card (see below for a list of exactly what you can get with your points.)
Once you do this for a little while go, and are a gold member, and perform 150 rewardable searches per month, you'll only need 475 points to get a $5.00 gift card.
Here are just some of the things you can get:
You can get $5 gift cards to stores such as: Amazon, Starbucks, Toys 'R Us,
Burger King, Sephora, Fandango, Macys, Hulu, and more.
You can get a Windows store credit for movies, music, and games.
You can get an Xbox gift card, you can donate to different groups, and more.
I try to do this every day. I remember most of the time, and end up with about $10 in Amazon gift cards per month.
While it isn't all that much, it adds up.
The way I see it is that I'm getting $120 a year for about 2 minutes worth of "work" a day. And since I do like to keep up with the news, it's not exactly hard work.
Just think of all of the stuff you can buy for $120 a year in "free" money – or you can save it up and get one really nice thing!
It's great to get stuff that you need for your next trip, or you can use the free gift cards on something you would have had to pay for, and put the money you didn't use aside to use on your next Disney trip.
While I earn less here than the other sites I use, it takes so little time each day that it's totally worth it to me.
Sign up for a Free Bing Account, and Start Earning Free Gift Cards!